Chicken Pesto Meatballs with Hidden Liver and Zucchini Noodles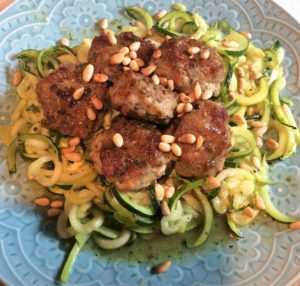 1# ground chicken
1 chicken liver, finely minced
½ tsp salt
¼ tsp paprika
¼ tsp onion powder
½ tsp garlic powder
1 tsp dried parsley
½ tsp dried basil
1 Tbl pesto
Ghee for cooking
Toasted pine nuts for garnish
¼ cup chicken broth
2 Tbl olive oil
1 Tbl pesto
½ tsp salt
¼ tsp onion powder
½ tsp garlic powder
1 tsp dried parsley
½ tsp dried basil
1 Tbl arrowroot powder dissolved in ½ Tbl water
Heat a pan over medium low, cast iron is great for this.
Combine all meatball ingredients in a mixing bowl. To make the meatballs, first coat your hands in olive oil (the chicken is very sticky), then mix all ingredients with your hands. Roll into balls about an inch in diameter, you should end up with 12 meatballs. I like to keep a little bowl of olive oil handy for this so I can oil my hands as needed while rolling the meatballs.
Add about a Tbl of ghee to the pan and add the meatballs. Turn as they cook to get them nicely brown on all sides, takes about 10 minutes total. Add more ghee during cooking if needed.
While the meatballs are cooking, combine all sauce ingredients, except arrowroot, in a small sauce pan over medium high heat.
When the sauce is slightly bubbling, drizzle in the arrowroot slurry slowly, while whisking, until the sauce reaches the desired thickness (you may not need all the slurry). You're looking for a consistency like your typical brown gravy.
Keep warm over low heat until ready to serve.
When the meatballs are halfway done, heat 1 Tbl olive oil in a pan over medium low heat. I like my 5-quart stainless steel pan for this.
Saute the noodles for about 3-5 minutes. They should still have a little crunch, you don't want them soggy.
To serve, toss the noodles with about half of the sauce. Divide the noodles evenly between two plates. Place 6 meatballs on top of the noodles on each plate. Drizzle the remaining sauce over the meatballs. Top with toasted pine nuts.
Recipe by
Acres Wild
at https://acreswildfarm.com/chicken-pesto-meatballs-with-hidden-liver-and-zucchini-noodles/