Chicken Tortilla Soup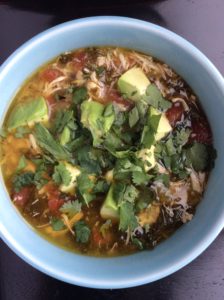 1 whole chicken, 4-5#
6 cups water
2 14.5oz cans fire roasted tomatoes, drained and rinsed
1 7oz can green chiles
1 tsp onion powder
1½ tsp garlic powder
½ tsp cumin
½ tsp coriander
1 tsp paprika
¼ tsp cayenne
1 bunch purple kale, chopped
salt
avocado and fresh, chopped cilantro for garnish
Place whole chicken, along with 6 cups water in a large (at least 6 qt) dutch oven. Bring to a boil, then reduce heat to low, cover and simmer. Cook for 2-3 hours, until meat is falling off the bone, turning chicken over once during cooking.
When the chicken is done, remove from the dutch oven and place on a cutting board or in a large bowl to cool. Strain any scum off the top of the broth if needed. Reserve the rest of the broth in the dutch oven.
While the chicken is cooling, place all the other ingredients in the dutch oven and allow to simmer.
Shred the chicken and place back into the dutch oven. The bones and skin can be saved in the freezer for making bone broth later.
Simmer until the kale is soft. Top with avocado and cilantro and enjoy.